HOME
►
Professional series
Professional series
Besides standard products of Logo brand exists Logo Professional range designating products of upper class, exceptional by their quality and design or products that are unique in the market. We would like to present members of this range:

CLEANING AIR DUSTER - NON-FLAMMABLE
New product in the offer of Logo Professional cleaning supplies - non-flammable cleaning air duster. Extremely strong air duster is designed to thorough removing of dust and another dirt from hard to reach or sensitive areas.The product can be used even if the ignition can threaten by reason of high voltage or static electricity. The plastic tube is added for accurate use and increase in efficiency. The product can be used in all positions (not only in basic vertical position).

ILLUMINATED LOGO KEYBOARD
Multimedia Logo Illuminated keyboard from Proffesional range with blue illuminating. Compared to another keyboards with illumination it excels, because single keys are illuminated (not all keyboard). Here isn´t glare so much thanks to it and the keyboard is also suitable for night work. The illumination can be switch on and off with functional button. It also includes functional keys for e-mail, music, searching and other. Dimensions (L x W x H): 401.7 × 162 × 25 mm.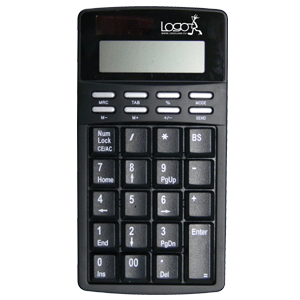 NUMERIC KEYBOARD LOGO 2in1
-
with possibility of triple supply
Buy 2 products for the price of 1! This keyboard of the Logo Professional range can be used as solar calculator or external numeric keyboard (computing results can be eventually transfer to your PC)
This multifunction numeric keyboard is ideal for financial applications, home and office use, for journeys.

Advantages of the calculator:

faster data input – "SEND" button transfers data from calculator to PC
19 numeric keys make financial applications easy
immediately at disposal without the necessity of synchronizing, there is no need to switch ´Num Lock´
energy saving – automatic shut-off function
3 types of charging: PC, battery, solar energy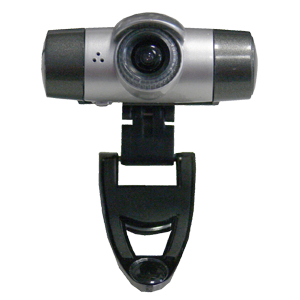 WEB CAM LOGO FLEXI
Adjustable cam with universal clip that is suitable for every type of monitor. Due to flexible characteristics can be adjust to any type of monitor – LCD, CRT, notebook or can be put on a table. Resolution 1.3 MPx, 30 frames/sec., 65 visual angle, automatic white balance incl. of the driver for function of facial monitoring.
WIRELESS MULTIMEDIA KEYBOARD LOGO EXCLUSIVE WITH INTELLIGENT TOUCHPAD

Control your PC accessories comfortably from your sofa. There is no need to have a mouse, numeric keyboard and standard keyboard. The keyboard with wireless technology with range to 10 m and practic integrated touch pad includes all these PC accessories. Offers higher comfort and saves your space. There are 12 inbuilt function buttons, at disposal, for Vista operating system through "Fn Lock" function, 16 multimedia keys for multimedia and access to applications. The keyboard is suitable for Windows XP with MCE, Windows 7, Vista Premium or Ultimate. The inbuilt smart touch pad combines 3 functions: numeric keyboard function, functions of mouse and multifunctional touch pad that can be controlled by movement of 1, 2 or 3 fingers.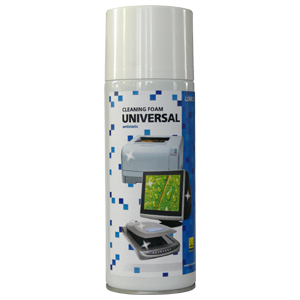 UNIVERSAL ANTISTATIC CLEANING FOAM
Universal cleaning foam is suitable for all surfaces - plastic, glass, furniture. Clean your mobile, keyboard, monitor or show case in the office or at home. The foam effectively removes dust and settled dirtiness from all surfaces, does not stream down after application and protects against another dust settings on cleaned surface. Is suitable for regular use as well as special service.

LOGO since 1994